Green gemstones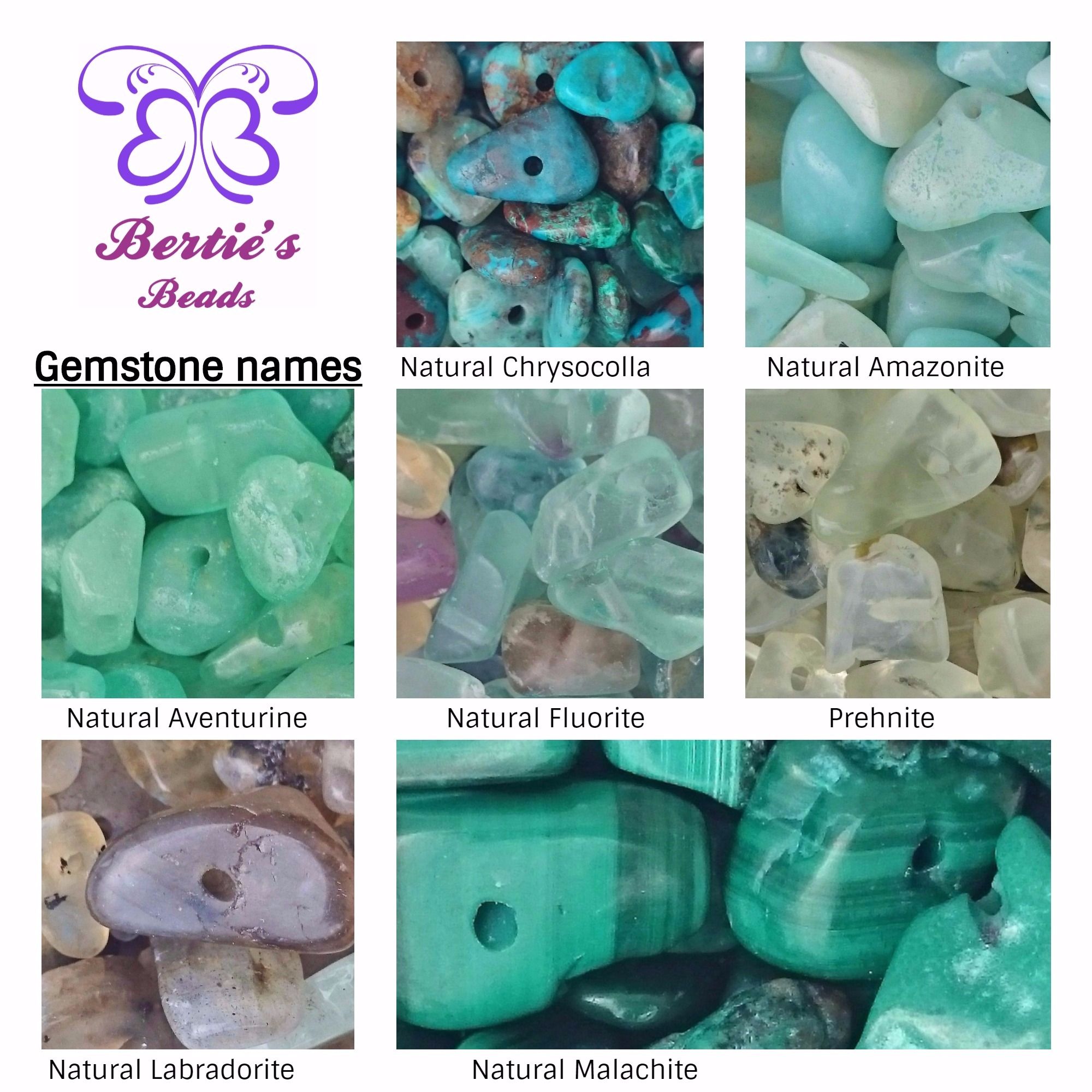 You will get approximately 12g of each gemstone in a small plastic box.
You will also get a reel of elastic and a set of instruction on how to make an elastic bracelet and the names of each gemstone.
Natural Chrysocolla Bead Chips, 4~12x4~12mm, Hole: 1mm. Chrysocolla is a stone for communication, it can help to dispel negative energies.
Natural Malachite Beads, Nuggets, 5~8x5~8mm, Hole: 1mm Malachite is a stone for travel and absorbing negative energies.
Natural Amazonite Chip Beads, 5~8x5~8mm, Hole: 1mm Amazonite dispels worries and fears whilst generally calming us down.
Natural Fluorite, Chips, Mixed Color, about 5~8mm long, hole: about 0.3mm Fluorite is a stone for mental order and clarity.
Natural Labradorite Chip Beads, 5~8x5~8mm, Hole: 1mm Labradorite can bring out the best of people in a working situation.
Natural Aventurine Beads, 5~8x5~8mm, Hole: 1mm Aventurine is used to alleviate stress and the day's troubles.
Natural Gemstone Beads Green Aventurine, Round, about 8mm in diameter, hole: about 1mm Prehnite Chip Beads, Size: about 5~8mm wide, 5~8mm long, hole: 1mm
Prehnite soothes and brings calm and hopefulness, it eases anxiety, worry and nerves.
Plastic Bead Containers, Jewelery Box, Rectangle, 7 Compartments, about 3.3cm wide, 15.5cm long, 1.8cm high These beads have historically been linked with many uses. These beads are not a medical treatment and medical advice from doctors should always be sort for this condition.